In my previous best Dual Blades in MHW post, I have laid out some builds for Iceborne Dual Blades. This guide today will focus more on the way Dual Blades attack work and how to have a build yourself.
MHW Iceborne Dual Blades
The Dual Blades was famous for its cool design and attack moves in previous Monster Hunter. It is so cool that even the cinematic attack move finally got real in MHW
In Iceborne, you got yourself two new moves for the Dual Blades
Iceborne Dual Blades Clutch Claw attacks
Iceborne Dual Blades Evade Shot
MHW Iceborne Build – Dual Blades Armor Skills
Many new hunters join MHW with Dual Blades and quickly realize it is not as cool as they see. Their attack range is short, the damage for each hit is low, constantly drain your stamina in Demon Mode, and the last nail to the coffin is how quickly it is to drain that little yellow bar!
Dash Juice and Stamina Boosts is the very first drug you need to take to make an easier Dual Blades experience.
For the Sharpness Bar, you will need any kind of Sharpness Boost (Master Touch, Protecti Polish, Handicraft…) This is almost a must for Dual Blades. The main reason is that Sharpness is decreased with the number of hits of the weapons, with those flurry attacks, you can bet that this little bar does not last for long. This makes the priority skills are as below
Sharpness Boost >> Weakness Exploit >> Critical Eye >> Critical Element >> Attack Boost >> Item Prolonger
Before we dive in to more detail on why Sharpness Boost is at the beginning and Item Prolonger is also used, let take a quick look at MHW Iceborne Sharpness
MHW Build – Why Sharpness?
The Sharpness Bar is MHW and MHW Iceborne is a very important factor that contributes to your damage output.
| | | | | | | |
| --- | --- | --- | --- | --- | --- | --- |
| Red | Orange | Yellow | Green | Blue | White | Purple |
| 0.5 | 0.75 | 1.00 | 1.05 | 1.20 | 1.32 | 1.37 |
For Elemental Damage
| | | | | | | |
| --- | --- | --- | --- | --- | --- | --- |
| Red | Orange | Yellow | Green | Blue | White | Purple |
| 0.25 | 0.5 | 0.75 | 1.00 | 1.0625 | 1.125 | 1.30 |
The number basically your damage will have a 37% Damage boost at Purple Sharpness and 30% Damage Boost for Elemental Damage at Purple Sharpness.
Making your weapon alway at it's peak (or better increase it's sharpness) is a big factor in building a good melee weapon build.
With that in mind, the meta is dominated with Master Touch (For Raw Damage Weapons) from the Kaiser Armor set. You can see this in my previous mhw build guides (Great Sword Builds, SnS Builds)
For Iceborne Dual Blades, it is a little interesting. As you probably will use Elemental Dual Blades (Raw like Blast and Poison is viable, but is outclassed by the elemental Dual Blades) Your best armor set is Silver Sol Armor (From MR 70 Silver Rathalos)
The True Critical Element Armor Skill from this set requires four pieces of Silver Sol. This gives you only one slot left. Normally, you will just pick the Garuga leg and call it a day.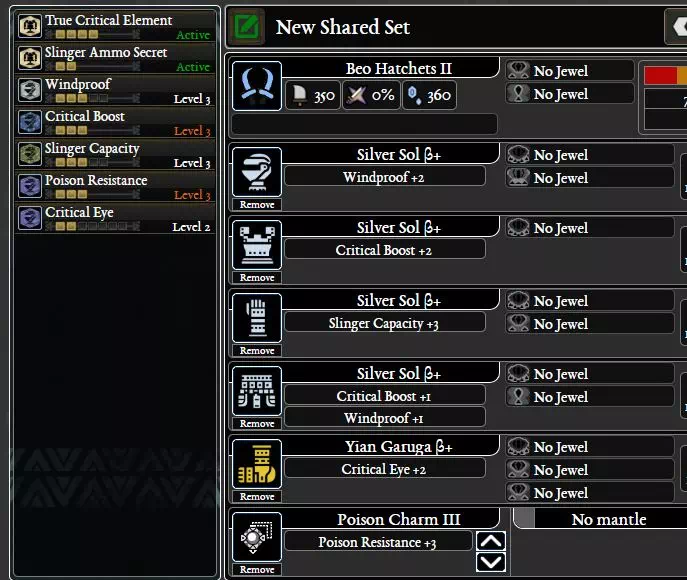 So how to boost the Sharpness in this build? You will need the Protective Polish – a cheaper way to reduce the Sharpness. With Protective Polish, the weapon's sharpness will not reduce after sharpening, give you some time to unleash your most powerful combos.
This is where Item Prolonger comes in, you can have 30 seconds more of Protective Polish with Item Prolonger.
That's all there is, let take a look at some Dual Blades Build below.
MHW Build – Dual Blades Meta Build
Best Armor for Elemental Build – Silver Sol (Silver Rathalos)
Before MR 70 Velkhana will give you bonus on Critical Element
Armor – Velkhana x 2 (Critical Element) + Kaiser x 3 (Master Touch) + Jewels (Elemental, Critical Eye…)
After MR 70 and End Game
Armor (MR 70) – Silver Sol x 4 (True Critical Element) + Garuga Leg (Critical Eye) + Jewels (Protective Polish, Item Prolonger…)
MHW Build Dual Blades – Early & Mid Master Rank
What Velkhana? I am just starting out! Yes, don't you worry, during your quest on Master Rank, your best pal for Sharpness is Nargacuga Set.
True Razor Sharp from Nargacuga set will reduce your sharpness lost rate (Hit will not reduce Sharpness, the estimated proc rate is 66%) This also gives you some boost on Evade Window and Stamina Surge. The rest depends on your customization. The downside is that it does not directly support elemental weapons.
MHW Build Dual Blades – Fire
MHW Build Dual Blades – Ice
Weapons – Beo Hatchets II
MHW Build Dual Blades – Lighting
Weapons – Kadachi Greathawks II
MHW Build Dual Blades – Water
Weapons – Jyura Keenblades II
MHW Build Twin Blades – Dragon
Weapon – Enduring Surrender
You can swap out with the Silver Sol Armor as soon as you reach MR 70 and start hunting this new subspecies of Rathalos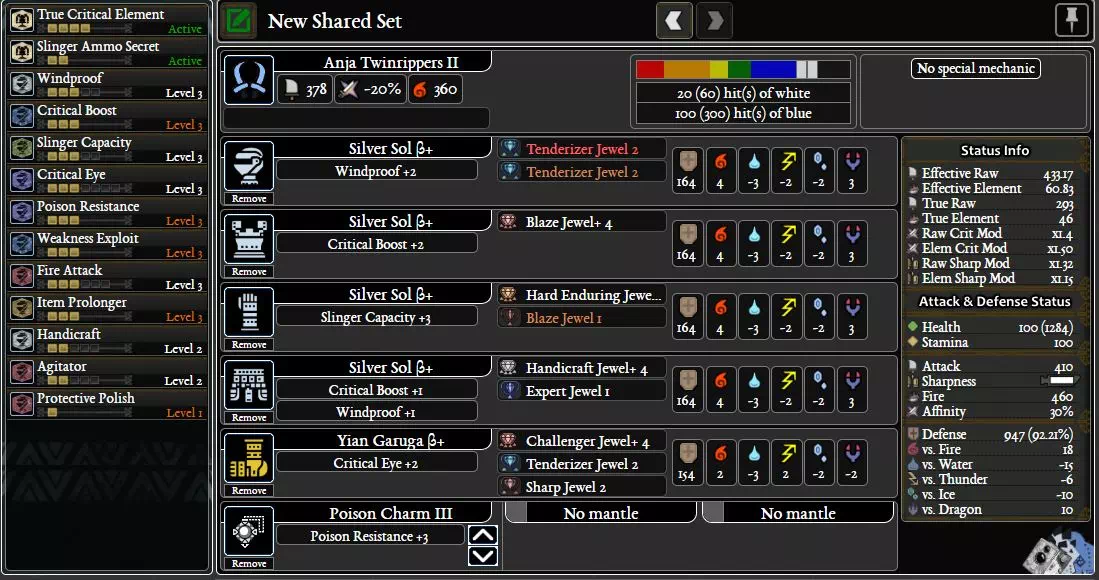 MHW Build Dual Blades – Safi'jiiva
As all Safi'jiiva Dual Blades are elemental ones. The easiest approach is to put in all Elemental Awaken Skill and call it a day.
Another variant is, of course, the Silver Sol combine with Protective Polish and some Sharpness Boost
Replace the weapons with any of the elemental Safi Dual Blades you like.
Finally, if you are all tired with all those element sparks, why not try out this comfy Blast Dual Blades build?
You can check out the full list of Safi's Dual Blades here
Conclusion
The Dual Blades is kind of hard to master compared to other straight forward weapons like Hammer, Great Sword or Sword and Shield (SnS). But if you master the Dual Blades, it will be all Megaman Style again. You will collect all the elemental Dual Blades, and fighting the monster according to its weakness. Doing all of this with style is why Dual Blades is still one of the main weapon in Monster Hunter Series for many years.
If you are not sure on what Dual Blades to pick, check out my guide on Best Iceborne Dual Blades.
The Builder Link link to honeyhunterworld Iceborne Builder tool – one of the best tool out there to make build for MHW.